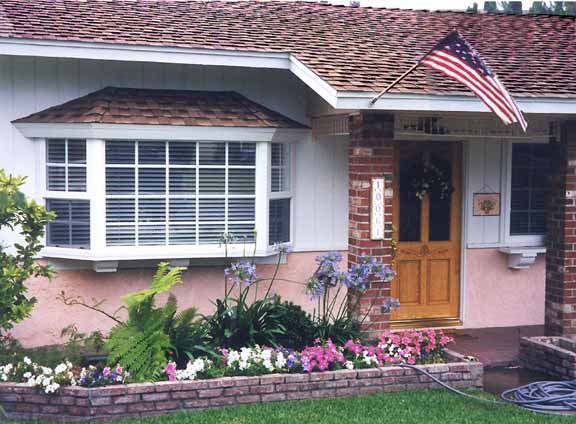 Bay windows are fashionable features in many homes. Their  unusual angled shape is striking in itself, and they  let in plenty of natural light and provide panoramic views However, when it comes to hanging  curtains and curtain hardware, many homeowners are often perplexed as to  how to handle the window's unusual shape. Often these windows have a window seat as well. Don't let the challenge of curtain or drapery hardware frighten you away from  drawing attention to this lovely spot in your home. There are some creative options for bay window hardware that are fairly easy to install.
Bay window curtain rods are designed in several pieces but work together as one rod. They are specially designed so  that each of the three rod sections is individually adjustable in length. This allows you to tailor each rod section to your specific bay window for a custom fit. Graber makes custom bay and bow window traverse curtain rods that are heavy duty and designed to carry about 1 1/2 pound per foot. Great if you are planning on hanging lush draperies. Graber's rods are custom made traverse rods that are made to your exact measurements. They suggest that you make a template to help eliminate any possible mistakes due to inconsistent window shapes as well as take precise measurements. As a matter of fact, call them, and they will gladly walk you through the process.
Once you receive your hardware, what do you do next?
*Have someone on hand to help if you choose to hang curtains on one bay window rod. A bay curtain rod is basically  an adjustable track that can be bent to conform to the contour of the windows allowing the draperies to hang along one rod instead of three separate rods. Follow the manufacturer's instructions for hanging the bay curtain rod. Use the included hardware and drill holes to firmly secure it in the woodwork.
*Slide the curtains onto the rods before mounting them. Adjust the curtains to make them hang evenly along the rods.
*Add tie backs for a decorative touch. Put
the tie-backs at the approximate level of where there would be a window seat.
There are so many options with a bay window and so many ways to dress it, and to utilize it. Check back later as we discover how to live with a bay window.